---
50-60 Tons Auto Rice Milling Machinery
---
50-60 tons/day output capcity complete set rice mill . from cleaner ,de-stoner ,husker .paddy separator, whitener ,polisher.to color sorter ,packing machinery.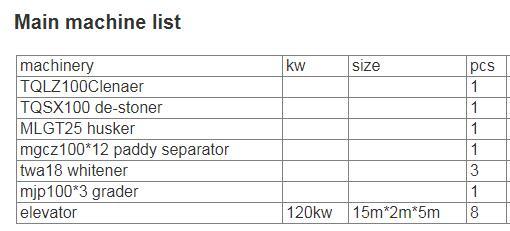 Features

1. This complete set rice mill machine cover an area of an area small, small investment, and apply the latest technology of rice milling, improve the milled rice rate, reduce broken, lower temperature meters, good bran removal effect, stable mechanical performance, convenient operation and maintenance.

2. Every major operation unit is driven by an indepandent ganerator, which is controlled by an independent control panel.

3. Craft work can be designed specially, combined flexibly and processed into different kinds of excellet rice according to different client's need.

4. The device is coated with a technique of static spray coating; the coating looks smooth and finr and is Weatherproof.

5. The feeding pipes are made of smooth glass, which looks good and very durable, too.

6. What's more, it is environment-friendly inters of adopting high-effective dust collecting unit to get rif of dust.
Rice destoner Rice husker Paddy separator Rice whitener Rice grader Rice cleaner Rice polisher
Contact
Address:Intersection of Longgang and Xinyi Road, Economic Development Zone, Yunmeng County, Xiaogan City, Hubei Province