---
60-80 Tons Per Day Complete Set Rice Mill Machine
---
Specification

60-80/day complete set rice mill machinery from claner ,de-stoner ,husker ,whtiner .grader .mist polisher to color sorter ,packing machinery .input capcity will be 5-6 tons per hour ,out put will be 3-4 tons per hour.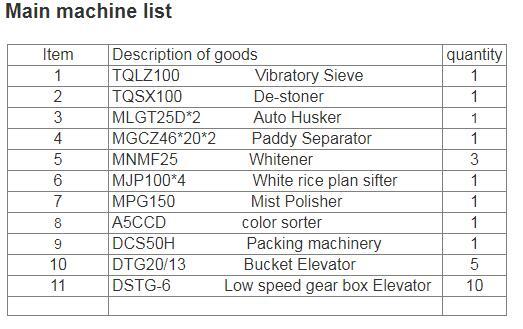 The rice milling complete equipment comprises scalping machine of quality properties, cleaning sieve, stoner, rubber roller rice huller, grain sieve, grit, iron roller whitening machine, rice sizing screen, rice polishing machine and high efficient bucket elevator and electric control panel etc. The whole process from grain classifying, rice hulling and husked rice separating, rice milling to rice classifying is all computerized.

Features

It features characteristics as follows:

1. Each major operation machines are driven by independent electric motor assorted by electric control panel for separate controls.

2. The techniques can be specially designed and flexibly assembled in accordance with what is required by users that can process rice of various precision.

3. Paintings can use static injection techniques that show bright and clean facade and lasting lustre.

4. The pipe for materials adopts glass pipe that is both artistic and durable.

5. The dust extraction adopts high-efficient dust collecting units that satisfy the requirements fo environmental protection.


Details

1. TQLZ100 Vibratory sieve can remove large, middle, small and light impurties from grain simultaneously; Plane rotary movement has higher efficiency; Smooth operation and long service life; Multiple sizes and specifications to meet different requirements; Suitable for assorted grain such as rice, wheat, maize and bean etc.

2. TQSX100 de-stoner separetor stones and heavy impurties from rice utilizing bulk density difference. It is mainly used to separete the heavy impurties such as stone, mud and etc from rice, wheat, and other grains. Based on different gravities between grains ans grain-sized stones.

3. MLGT25D*2 Husker adopting a new vibratory feeding system. Stepleess adjustment could be done to the vibration frequency according to actual production. Feeding looks like waterfall, big and uniform. Backed up shedding plate automatic tracking rubber roll devices to ensure feeding accuracy,making operation of rubber roll optimal.

4. MGCZ46*20*2 paddy separator is suitable for the grading and separation of brown rice and milled rice high efficiency, durable, stable operation, low maintenance requirements, lower energy consumption.

5. MNMF25 Whitener, new structure, good mechanical stability and easy disassembly. Higher pressure of suction for milling so as to make brokens less, rice higher quality and bran fewer. Feeder device micro-adjusted guarantees rice flow enter into milling chamber stably and evenly. Due to adopt feeding with tangent and direction-followed model, the machine can acquire maximum capacity.

6. MJP100*4 Rice plan sifter can shift milled rice efficiently and accurately into several classes: head rice, large broken, medium broken, samll broken and etc.

7. MPG150 Mist polisher is used for fine processing of rice. By processing, it can effectively remove the bran powders in the rice, improve the oxidation resistance capacities of rice, make the processed rice clean and fresh and extend the length for presservation, after which the processed rice can be eaten as washed rice.

8. A5 CCD color sorter, could completely resolve the rejection difficulties of those different color granules, mildewed granules and faint yellow sopy of rice, improve quality and guarantee foods security thereby.
Rice destoner Rice husker Paddy separator Rice whitener Rice grader Rice cleaner Rice polisher
Contact
Address:Intersection of Longgang and Xinyi Road, Economic Development Zone, Yunmeng County, Xiaogan City, Hubei Province