---
Electric/Gas Roasting Machine Stir-Fry Chestnut with Sugar Peanut and Sesame with Melon Seeds
---
Complete set of rice mill from 20 tons to 200 tons per day.We located in the Xiaogan city ,Hubei province,China.
---
---
Product Application
Electric/Gas Roasting Machine Stir-Fry Chestnut with Sugar, Peanut and Sesame with Melon Seeds
1. There are two types: electric and gas type. You can choose the one you prefer.2. It can aslo be used for roasting peanuts, sesame, grains, cashew nuts, sunflower seeds etc, it is multi functional.
3. It is Stainless steel body, the original tank is suitable for large particles, with fruit shell materials. It can be upgraded.
to stainless steel tank, suitable for small particles, no fruit shell raw materials.
4. For this machine, by reverse direction, it can pour out the materials. It is more convenient.
5. When roasting materials, you can also add some oil or salt to make different flavors.
Main Features

1. One machine multi-purpose, energy saving and time saving.
2. Using pure copper motor, long service life, powerful power.
3. High efficiency and durability roller, super long fire row, large heating surface, more uniform fire.
4. Uniform heating, good sealing, fine control and adjust the size of fire, three-dimensional frying pan, out of the convenience,
without manual separation.
| | | | | |
| --- | --- | --- | --- | --- |
| Model | Capacity | Power | Voltage | Dimension |
| 25 gas type | Chinese chestnut: 6-9kg/ 25min; Egusi: 5-8kg/15min; Peanut: 4-7kg/15min | 90 W | 220V | 1170*460*950 mm |
| 25 electric type | Chinese chestnut: 6-9kg/ 25min; Egusi: 5-8kg/15min; Peanut: 4-7kg/15min | 5 KW | 220V/380V | 1170*460*950 mm |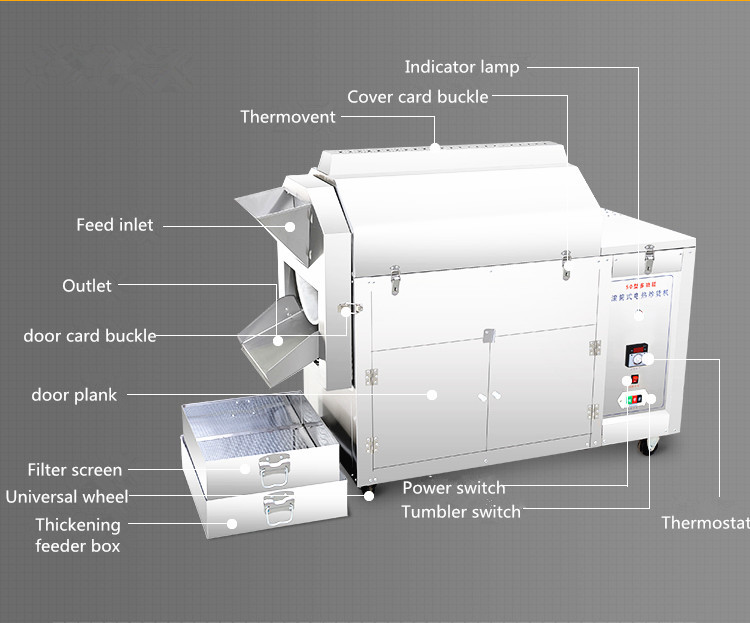 ---
Rice destoner Rice husker Paddy separator Rice whitener Rice grader Rice cleaner Rice polisher
Contact
Address:Intersection of Longgang and Xinyi Road, Economic Development Zone, Yunmeng County, Xiaogan City, Hubei Province